The MAX8815A DC-DC boost converter is an efficient, low static current, synchronous boost converter with True Shutdown and inrush current limiting capabilities. Comes in a compact 10-pin 3mm x 3mm TDFN package. The MAX8815A evaluation kit can help reduce the time required for system design.
Simplified operating circuit diagram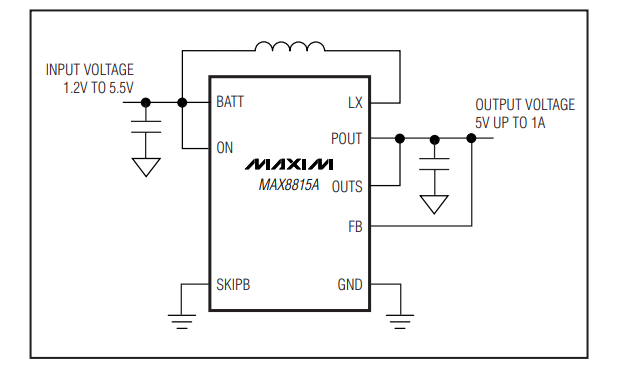 The MAX8815A produces any output voltage from 3.3V to 5V from a 2-cell NiMH/NiCd or single-cell Li+/Li polymer cell. It works in two modes. The first mode of operation (normal) uses only 30 μA (typical) static current and allows the converter to switch only when unloaded and under light load.
The MAX8815A uses fixed-frequency pulse-width modulation (PWM) technology under moderate and heavy loads (typically above 90mA). This mode allows for maximum efficiency under light loads. The second mode of operation is the fixed frequency forced pulse Width modulation (FPWM) mode, in which the converter switches at a fixed frequency without being affected by the load. This mode allows for easy noise filtering and lower output ripple.
Functional Diagram
The MAX8815A has a preset 2.5A current limit that allows a load of 500mA at 1.8V input and 1A at 2.5V input when the output is set to 5V. Features include soft start, limit surge current during startup, true shutdown and internal compensation.
Pin Configuration