The STP08CP05 is a monolithic, low-voltage, low-current, and power 8-bit shift register designed for LED panel displays and contains an 8-bit serial in/out shift register that feeds data to an 8-bit D-type storage register. In the output phase, eight voltage stabilized current sources were designed to provide a constant current drive led of 5-100 mA, and the output current setting time was 11 ns (typ), thus improving the system performance.
The STP08CP05 guarantees a 20 V output drive capability, allowing users to series more leds. The clock frequency is 30mhz, which meets the requirements of large-capacity data transmission. The 3.3V voltage supply is useful for applications that interface with any micro from 3.3V. The TSSOP exposed pad provides 2.5 times more heat dissipation than the standard TSSOP package.
STP08CP05 is backward compatible with STP8C/L596 in both functionality and footprint. Through the external resistance, the user can adjust the output current of STP08CP05, thus controlling the light intensity of the LED. In addition, the user can adjust the brightness intensity of the LED from 0% to 100% through the OE pin.
Features
● Low voltage power supply down to 3 V
● 8 constant current output channels
● Adjustable output current through the external resistor
● Serial data IN/parallel data OUT
● 3.3 V micro driver - able
● the Output current: 5-100 mA
● 30 MHz clock frequency
● the Available in high thermal efficiency TSSOP exposed pad
● ESD protection, 2.5 kV HBM, 200 V MM
Connections diagram
Block diagram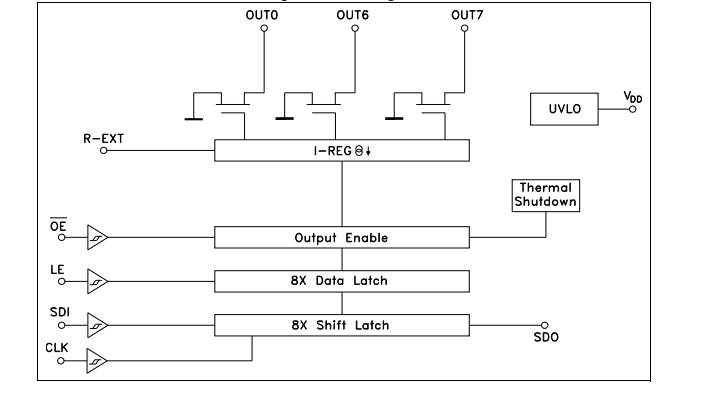 Timing diagram