STMicroelectronics announces STM32WBA52 Wireless Microcontroller with SESIP3 security tailored for the Internet of Things The first product in a new series of MCU, STM32WBA delivers the performance, Energy efficiency and security that Bluetooth® Low Energy 5.3 applications require. STM32WBA wireless MCU platform contains the cutting-edge patented technology of ST. Targeted applications include smart homes, industrial lighting, sensors, electrical switches, gateways and portable medical devices.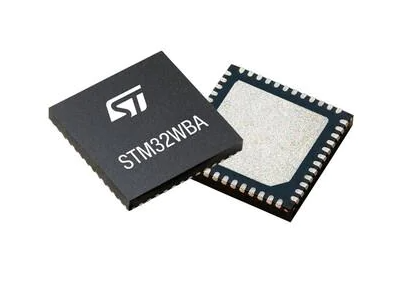 The STM32WBA52 microcontroller (MCU) integrates Bluetooth® LE 5.3 connectivity technology, ultra-low power mode, and advanced security, along with a variety of peripherals familiar to STM32 developers. The launch of the new products will facilitate developers to add wireless connectivity, reduce power consumption, enhance network protection, and improve edge computing power in the next generation of iot devices.

With the help of STM32WBA52's capacity expansion and resilience investment, the STM32WBA52 is now available in the mass market and brings the market-proven wireless connectivity capabilities of STM32WB MCU for which STMST is renowned. Powered by a 100MHz Arm® Cortex®-M33 core, the new product offers more computing power and advanced STM32 peripherals.

The powerful STM32Cube ecosystem simplifies the migration of applications from existing STM32WB and generic STM32 MCU to the new STM32WBA52, where, The STM32CubeWBA MCU software package is embedded in the certified Bluetooth® Low Energy 5.3 protocol stack and includes existing BLE Profiles of the STM32WB family for easy portability of applications across the family of wireless microcontrollers.

The STM32Cube ecosystem also includes a variety of development tools, such as the STM32CubeMX peripheral configur and code generator, the STM32CubeMonitor-RF performance tester, and the StM32Cube.AI desktop and Cloud AI development tools. Resource-rich ecosystems have been shown to speed up application development and validation. In addition, to simplify the prototype design, stmicroelectronics will also launch NUCLEO-WBA52CG, a dedicated development board for STM32WBA52.

The on-chip integrated ultra-low power RF circuit has the unique +10dBm RF output power on the market, enabling the establishment of connections for reliable remote communications with data rates up to 2Mbit/s. Deep standby low power mode combined with active RF communication can significantly reduce overall power consumption and save battery power. STM32WBA MCU supports simultaneous connection of up to 20 devices.

Based on security isolation, memory protection, tamper protection, and Cortex-M33's Arm TrustZone® security architecture, the PSA Security Certification program enhances the network protection capabilities of the new product. The new product platform also features a security software solution based on Trusted Firmware for Arm Cortex-M (TF-M).

TF-M conforms to the industry standard PSA authentication security framework with PSA immutable trust Roots (RoT) including secure startup and secure firmware updates, encryption, secure storage and runtime credentials, embedded symmetric and asymmetric encryption accelerators resistant to bypass attacks, and key security with a Hardware Unique Key (HUK) security approach. The STM32WBA52 product line has strong resistance to physical attacks and will be Certified through the Arm PSA Certified Level 3 and SESIP3 IoT security standards.
Block diagram
The STM32WBA52 shares many power-saving technologies with the STM32U5 ultra-low power series, featuring stmicroelectronics' low-power DMA and flexible fast wake-up power-saving mode. These features can reduce MCU power consumption by up to 90%. The new product also integrates advanced peripherals, where the oversampling capability of the 12-bit ADC improves conversion accuracy, and error code correction (ECC) of internal flash and RAM enhances data integrity and security. The 1Mbyte large capacity flash memory provides storage space for user applications and protocol stacks.