The ICM-20648 of TDK InvenSense is a 6-axis sensor DMP, which is ideal for applications that want to use onboard DMP to run a 9-axis sensor fusion algorithm on the chip to help unload microcontrollers. ICM-20648 supports the auxiliary I (2) C interface of external sensors, on-chip 16 bit adc, programmable digital filter, embedded temperature sensor and programmable interrupt. The operating voltage range of the device is as low as 1.71 V. The communication port includes I2C and 7 MHz high-speed SPI.
Pin out Diagram for ICM-20648 3.0 mm x 3.0 mm x 9 mm QFN
Typical operating circuit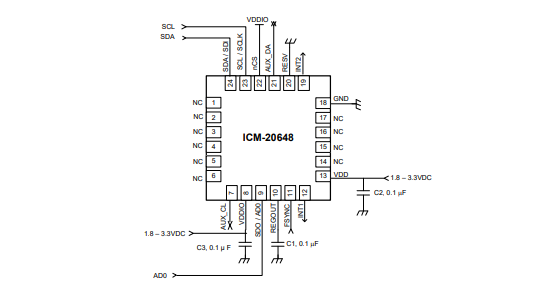 High performance, low power consumption, 6-axis solution with on-board digital motion processor, can run 9-axis sensor fusion on the chip. ICM-201648 is an ideal choice for IoT and wearable applications seeking basic activity identification.
Block diagram