The MC74VHCT540A is an advanced high speed CMOS inverter eight-bus buffer manufactured using silicon gate CMOS technology. It achieves high speeds similar to equivalent bipolar Schottky TTL while maintaining CMOS low power consumption. The internal circuit consists of three stages, including buffered output, providing high anti-interference and stable output. Input withstand voltages up to 7.0V, allowing interfaces from 5.0V systems to 3.0V systems.
The input and output of the MC74VHCT540A are located on opposite sides of the package and have two and type active low output enablement. When OE1 or OE2 is too high, the terminal output is in the high impedance state. VHCT input is compatible with TTL level. The device can be used as a level converter for 3.3V to 5.0V interfaces because it has full 5.0V CMOS level output swing.
Regardless of the power supply voltage, the VHCT540A input and output (when disabled) structure provides protection when applying voltage between 0 V and 5.5 V. These input and output structures help prevent device damage from power supply voltage-input/output voltage mismatches, battery backup, hot insertion, etc.
Logic Diagram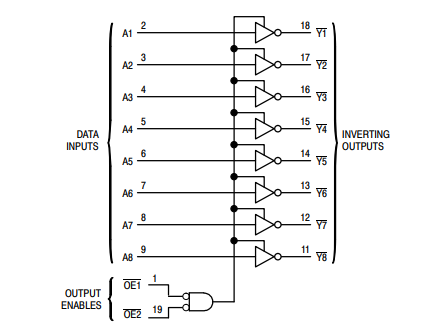 Pin Assignment

Switching Waveform
Test Circuit


Features
● High Speed: tPD = 3.7ns (Typ) at VCC = 5.0V
● Low Power Dissipation: ICC = 4.0 μA (Max) at TA = 25°C
● TTL−Compatible Inputs: VIL = 0.8V; VIH = 2.0V
● Power Down Protection Provided on Inputs
● Balanced Propagation Delays
● Designed for 2.0V to 5.5V Operating Range
● Low Noise: VOLP = 1.2V (Max)
● Pin and Function Compatible with Other Standard Logic Families
● Latchup Performance Exceeds 300 mA
● ESD Performance: HBM > 2000 V; Machine Model > 200 V
● Chip Complexity: 124 FETs or 31 Equivalent Gates
● These Devices are Pb−Free and are RoHS Compliant