The concept of the Internet of Things (IoT) was first introduced in 1999. It describes a network of smart devices that use the Internet to improve human lives. For example, a car is equipped with various sensors that alert your phone when tire pressure is low. In addition to using a large number of sensors, the Internet of Things is also an arena for various wireless interconnection technologies, including cellular, Wi-Fi, BLE, NB-IoT, LTE-M, LoRa, Zigbee, NFC, and even satellite communication, which play a key role in the Internet of Things. These technologies enable billions of iot devices to transport and process the vast amounts of data they capture every day to data centers, serving thousands of businesses.
Connectivity technology in the Internet of Things
Internet of Things applications are essentially about remote monitoring and management of devices or processes. The Internet of Things cannot exist without connectivity, and devices in the iot ecosystem can only work if they are connected to other devices. There are many technologies available to provide this connection, as shown in Figure 1.
Figure 1: Connection technologies required for different applications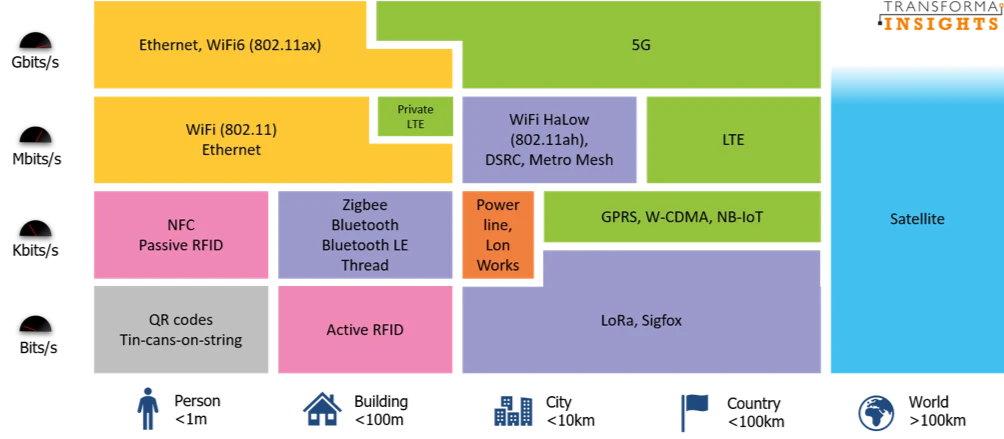 Cellular, Bluetooth, Wi-Fi, Zigbee, LTE-M, LoRa and NFC listed in Figure 1 are the most common communication technologies and protocols in the Internet of Things, and these protocols meet the specific functional requirements of most of the Internet of Things systems.

Cellular communication is a wireless network with wide coverage, high reliability and security deployed by telecom operators. Users do not need to build a whole new network to connect various devices in the Internet of Things project. Cellular connectivity is often ideal for highly mobile iot systems. With the large-scale deployment of 5G, cross-wide area connected IoT devices (also known as "massive iot", massive IoT) will become a reality, connecting thousands of iot devices across a wide area. High data rate cellular connections are perfect for data-intensive iot applications, high-speed mobile devices and real-time video streaming.

According to the Very Large Scale Cellular iot White Paper, cellular iot will only account for 22% of all connections by the end of 2026, which translates to about 5.9 billion devices that will be connected via cellular networks. The reason is obvious: While cellular networks are capable of sending large amounts of data, especially 4G and 5G networks, the cost and power consumption are too high for many applications.
Figure 2: Actual and predicted number of iot devices using different technologies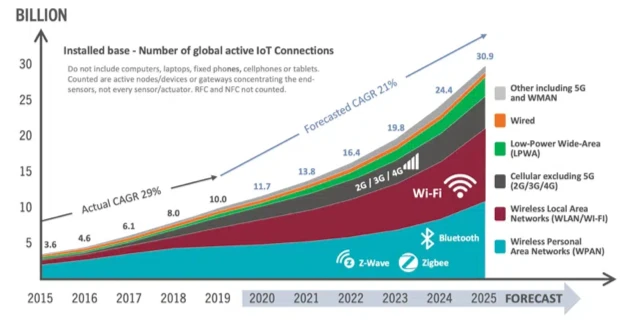 The vast majority of iot connections use short-range wireless technologies such as Wi-Fi, Bluetooth, Z-wave and Zigbee (Figure 2). Among them, Wi-Fi connection is one of the most popular iot communication protocols, especially given the availability of Wi-Fi in home and work environments within Lans, which is preferred by many developers. As a result, Wi-Fi is widely used in the Internet of Things, where a range of smart devices, from smart TVS to smart light bulbs to smart refrigerators, can be easily operated using Wi-Fi networks. Wi-Fi is also an excellent choice for digital signage, which is popular in restaurants and businesses, as most of these stores already have Wi-Fi routers installed and the implementation plan is simple.

Overall, Wi-Fi is certainly a simple and effective option for applications where the iot ecosystem is limited to a specific area, such as the home or office. The advantages of Wi-Fi are obvious, including the ability to protect the network in a private environment and no cost limits on the amount of data that can be transferred. Again, the drawbacks are well known, such as slightly lower reliability, limited data transmission range, and higher power consumption.

Currently, Wi-Fi 5 (802.11ac) or earlier is the most common version used by many homes and businesses. Wi-Fi 5 has a maximum data transfer rate of 6.9Gbps, which is good enough for file transfers. However, in the enterprise market, especially in Industrial Internet of Things (IIoT) applications such as industrial automation, monitoring and remote control, AR/VR, and other video applications that require high bandwidth, low latency, and high connection reliability, this transfer rate can sometimes feel inadequate.
Now, Wi-Fi 6 has made a rapid transition from early deployment to scale applications, and the speed and capacity of the network has been greatly increased, with throughput nearly four times that of Wi-Fi 5. Happily, iterations of Wi-Fi technology never stop, and the specification for Wi-Fi 7 was ready while Wi-Fi 6 was still being rolled out. While a formal standard has yet to be released, a Wi-Fi 7 chip for access points is already available.

Bluetooth is an important short-range wireless communication protocol, which plays an important role in the computer and consumer products market, and is a key technology in wearable products. The new Bluetooth Low Power (BLE) is an important communication protocol for iot applications, especially for small battery-powered devices. Bluetooth-enabled smartwatches and fitness trackers can send data back quickly, making it easy for users to view relevant information on their smartphones.

Mesh protocols (ZigBee, Z-Wave and Thread) also play an important role in the Internet of Things. A Mesh network is a multi-node structure connected by multiple routers. These connections tend to be direct and dynamic, rather than based on an inherent hierarchy, and flexible enough to adapt to a variety of network conditions to efficiently transfer data.
The self-configuring capability of Mesh networks means they can recover quickly from failed nodes without external maintenance, making them ideal for enterprise iot applications and maintaining high reliability even in large-scale applications. Like Bluetooth, Mesh protocols such as ZigBee, Z-Wave and Thread are commonly used in consumer products. Mesh is a good option when you want to connect multiple devices, and is becoming increasingly popular in applications such as the smart home, environmental monitoring, and more.

Each technology has its own application scenarios. Cellular is the technology of choice for mobile devices. Short-range technologies such as Wi-Fi are mainly used for indoor connections. Low power Wide area networks (LPWAN), which include technologies such as NB-IoT and LTE-M, LoRa, which focus on iot applications such as more cost effective, better performing in indoor or underground locations, and battery-powered devices with up to 10 years of battery life, are becoming the focus of iot connectivity solutions and are the technologies we will focus on today.
LPWAN: An important connectivity technology in the Internet of Things
In the industry, LPWAN technology is comparable to a revolutionary Internet of Things access technology, which has the characteristics of low power consumption, long distance, low bandwidth, simple network structure and low operating cost. Compared with cellular, Wi-Fi, Bluetooth, ZigBee and other technologies, LPWAN truly realizes the low cost wide coverage of the Internet of Things. LoRaWAN, NB-IoT, LTE-M or RPMA are all classified as LPWAN. Among them, NB-IoT and LoRa are the major technologies in LPWAN and the preferred technologies for large-scale iot applications.
I.NB-IoT
Narrow band Internet of Things (NB-IoT) is an emerging technology in the field of IoT, which enables extensive iot connectivity at low cost, broadening the potential applications of iot. Next, NB-IoT/Cat-M (Cat-M1 also known as LTE-M) will see explosive growth, from nearly 200 million connected devices in 2020 to about 2.6 billion by the end of 2026, according to the Ericsson Mobility Report November 2020. 45% of all cellular iot connections.

Figure 3: Actual and projected number of iot devices using different cellular technologies

Qualcomm is one of the earliest companies to launch NB-IoT chips. The MDM9206 chip released in March 2017 and mass-produced at the end of May is a multi-mode chip for LTE Internet of Things, integrating MTC, NB-IoT and GPRS technologies. The chip supports all bands of Cat-M1 and Cat-NB1 LTE worldwide, integrates GPS, GNOSS, Beidou and Galileo global navigation satellite positioning services, and realizes low-cost, low-power, low-bandwidth and wide-coverage Internet of Things products and services.
A year later, Nordic released its first NB-IoT/LTE-M dual-mode chips and module nRF91 series to the industry and became the fourth multinational company to release commercial NB-IoT chips, following Altair, Sequans, and Qualcomm. Nordic nRF91 series is a kind of LTE-M/NB-IoT dual-mode chip supporting 3GPP R13 specification, among which nRF9160 SiP is the industry's first NB-IoT module using Arm®Cortex®M-33 CPU core. It has 1MB flash memory and 256kB RAM onboard memory.
nRF9160 SiP was also the first to incorporate Arm's then-state-of-the-art Arm TrustZone and Arm CryptoCell security features into Internet-grade encryption and application protection. These technologies are embedded IoT products designed for high energy efficiency and require high levels of performance in terms of computing power, power consumption, and security. The nRF9160 SiP module is only 10 x 16 x 1mm in size and is suitable for very compact wearable consumer products and medical devices with key applications including asset monitoring and tracking, utility metering, industrial and predictive maintenance, smart cities and infrastructure, smart agriculture and healthcare.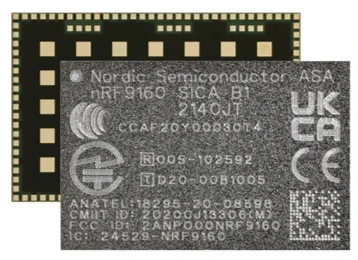 II.LoRa
LoRa is the mainstream LPWAN communication technology. It is an ultra-long distance wireless transmission scheme based on frequency modulation spread spectrum technology. It takes full consideration of distance and power consumption, and provides users with a simple sensor network with long battery life and long transmission distance. The bandwidth of LoRa transmission channel is 157dB, the theoretical transmission distance can be up to 15km, the working current is only 10mA, the standby current is 200nA, the power consumption is very low, is conducive to extending the service life of the battery. LoRa's network frequency band is basically the free frequency band in the world. These frequency bands are 433Hz, 868Hz, 915Hz, etc. LoRa's end nodes are various iot devices such as smart meter reading, smart electricity meters, delivery trackers, ranch managers, etc.

According to early December 2022 the latest market news, Semtech LoRa ecological recursive partner shenzhen silicon technology in iot solutions business Stal Data company, based in intensive pig farms deployed in the Netherlands LoRaWAN agreement SenseCAP environmental monitoring equipment, to pig internal co2 concentration, ammonia concentration, Various environmental parameters, such as temperature and humidity, are monitored remotely, and the growth of pigs is displayed in real time through online live broadcasting, which not only greatly improves the production efficiency, but also guarantees the transparency and traceability of food safety. Currently, LoRa has a mature ecological chain, which is expected to maintain rapid development in the coming years.

LoRa is a wireless communication technology developed specifically for long distance and low power application scenarios, and its development in iot applications is integral to the LoRa module in each LoRa terminal device. Microchip's RN2483 is a fully certified 868MHz module based on LoRa technology that uses unique spread spectrum modulation in the Sub-GHz band to achieve long distances, low power, and high network capacity.
The module's embedded LoRaWAN protocol enables seamless connectivity to any Lorawan-compliant network infrastructure. The RN2483 is also the first LoRa module to pass the LoRa Consortium certification test. It is certified by the LoRaWAN 1.0.1 specification, ensuring that designers can quickly and easily integrate their terminal equipment into any LoRaWAN network. Among them, RN2483A-I/RM104-LoRaWAN specification 1.0.1 is suitable for Class A applications; RN2483A-I/RM105-LoRaWAN Specification 1.0.2 supports Class A and C applications.
STMicroelectronics STM32WL MCU is a member of the STM32 RF product family, which combines a universal microcontroller and sub-GHz radio on the same chip. The STM32WL MCU is based on the Arm Cortex‐M4 and Cortex-M0+ cores (single or dual core optional), supports composite modulation LoRa, FSK, MSK, BPSK, and is certified in a fully open manner by LoRaWAN, Sigfox, W-MBUS, or any other suitable protocol. To ensure flexibility in wireless applications, the LoRa SoC is an early launch in the industry. The STM32WL MCU uses Semtech SX126x based sub-GHz radios to meet the needs of a variety of LPWAN wireless applications in industrial and consumer Internet of Things.
Conclusion
There are two main types of wireless technologies in iot applications. One is short-range wireless technologies such as Bluetooth/Wi-Fi/ZigBee/NFC. Personal Area networks (pans) such as Bluetooth or NFC have a range of one or two meters and are used to connect personal devices such as headsets. NFC (Near Field communication) is also an Internet of Things technology, which enables simple and secure communication between electronic devices.
The most widely deployed of these short-range wireless technologies is Wi-Fi, which is almost universally deployed in residential and business environments; The other is the technologies that make up the WAN, such as 2G / 3G / 4G / 5G. The advantages and disadvantages of each technique are obvious. LPWAN is a network layer technology of the Internet of Things, which is oriented to the remote and low power requirements of the Internet of Things. Before LPWAN, there was usually only one choice between long range and low power. With LPWAns, there is no tradeoff between the two. In addition to long-distance communication and ultra-low power consumption, LPWans can save additional relay costs.

LPWAN is an integral part of the Internet of Things. It is flexible and scalable. The network scale can be large or small, which is necessary for the growth and exploration phase of the Internet of Things industry. According to Facts and Factors, the global market size for iot devices was $1.529.5 billion in 2021 and is expected to grow to $2.72442 billion by 2028, with a compound annual growth rate (CAGR) of approximately 10.10% over the forecast period. The booming Internet of Things industry is also sure to take key technologies with it. Currently, the two major iot networks in the LPWAN, NB-IoT and LoRa, are developing rapidly and have a promising future.